The Donovan Memorial Silver Fox
What is the Donovan Memorial Silver Fox?
The Donovan Memorial Silver Fox is a cooperative project between the Royal Order of the Hounds, and King Jewelers of Tampa, Florida. Conceived by Bryan Hoag following the passing of his good friend Kenneth Donovan, the Silver fox began as a gift to Ken's widowed wife, Caroline, and would become a means to aid Caroline in continuing to operate Ken Donovan's newspaper: "The Crusader" a small newspaper dedicated to identifying and listing criminals who have skipped bail, or wanted by the Police for Criminal activity. The purchase of each Silver Fox pin through King Jeweler's not only shows your support to the Crusader's mission, but also includes an automatic donation to the Ken Donovan Memorial Fund.
Click Here to visit The Crusader's Website at http://www.usacrusader.com/
Who was Ken Donovan, and Why a Silver Fox?
As far as who Ken Donovan was, the best story of him thus far is an excerpt from the Tampa Tribune: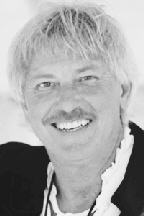 DONOVAN, Kenneth B., passed away unexpectedly Thursday, September 6, 2007, at his home in Tampa. Ken was a man of courage and conviction. He will be greatly missed by his beloved wife, Caroline Jett Donovan, and his extended family and friends, as well as the communities of Hillsborough and Pinellas Counties, Fla. Ken was born Walter Kenneth Baggett December 19, 1948, in Hope Mills, N.C. He was raised in Tampa, and in 1968 he graduated from Hillsborough High School,where he excelled in basketball and was named to the All-City, All-Conference, Times All-Star and All-American teams. He received a bachelor' s degree in pre-med from the University of Tennessee on a full basketball scholarship, and was a 9th round draft pick for the Boston Celtics. He later returned to UT Medical School. After graduation, he chose to enlist in the U.S. Marine Corps. He served in Vietnam with honor and distinction and received three Purple Hearts, two Silver Stars, a Bronze Star with a cluster, the French Croix de Guerre and the Vietnamese Medal of Valor. A gentle giant and modern renaissance man, Ken' s interests ran from being a guest lecturer at the University of South Florida in quantum and astro physics to playing Captain Morgan for Seagram Co. Ltd. He wrote and published screenplays and children' s books, and was a 5th degree black belt and instructor in Tai Kwon Do. He was a familiar face at the Bay Area Renaissance Festival, playing his favorite character, Seamus O' Donovan. He was a radio disc jockey in Louisiana, Kansas and California. He was an actor of stage, films and television as well as an anti-crime commentator on local Tampa radio and television affiliates. Ken never met a person who remained a stranger. Though he traveled the world extensively, he always remembered where he came from, serving meals in the local food kitchens, sharing breakfast regularly with childhood friends and opening his front door to anyone in need. But what he was most professionally proud of was his role as the creator and editor-in-chief of The Crusader newspaper for fifteen years. He and Caroline worked tirelessly for victims of crime and domestic violence by identifying criminals, working with local law enforcement and finding missing children. In 1996, he was recognized by Peter Jennings as a "Person of the Week" for his single-handed efforts to eradicate crime in the Tampa Bay communities. Once he became a public persona, he changed his name legally to Kenneth B. Donovan in honor of the late Norton and Margaret Donovan of Tampa. Besides his wife of 17 years, he leaves a daughter, Leticia Ruth, son-in-law, U.S. Navy Cdr. David Ruth, and grandchildren, Christian, Eliana, and Elizabeth of Monterey, Calif.; and three brothers and their wives, Michael and Carol Baggett of Pallyup, Wash., Daniel and Debbie Hammer of St. Charles, Mo., and Donald and Cindy Hammer of Dade City, Fla. He was predeceased by his mother, Laverne Hammer, and his brother, Wayne Carlos Baggett. He was the cherished son-in-law of retired U.S. Navy Capt. William and Sarah Holt Jett of Bloomfield, Conn., who considered Ken their eldest son. He was also a true older brother to Anne Jett Owens and her husband, Vernon Owens, of Mt Pleasant, S.C., and Peter Holt Jett and his wife, Liza, of Liberty Lake, Wash. He was especially proud of his two nephews, Joshua Hammer of Dade City, Fla., who is following in his scientific footsteps, and Peter Sherman Jett of Warwick, R.I., who is following in Ken' s service to country. The memorial Eucharist took place at 1 p.m., Thursday, September 13, 2007, at St Clement' s Episcopal Church, Forest Hills, Tampa. In lieu of flowers, contributions may be made to Child Protection Education of America, 410 Ware Blvd., Ste. 710, Tampa, FL 33619, to the American Heart Association, 7272 Greenville Ave., Dallas, TX 75231, and/or the Caroline Jett Ken Donovan Memorial Fund at Bank of America.
Published by TBO.com on 9/11/2007.
In regards to the "Silver Fox" title, that was a title bestowed upon Ken by his close friends and family, who compared his likeable manner and ability to get the the crux of a situation swiftly and effectively. For these fine qualities, Ken was often referred to as "The Silver Fox", and has thus been immortalized as such It is for these reasons and so many more what this celebratory item has been made.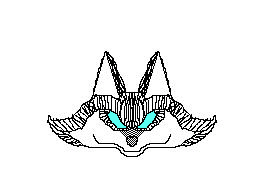 How do I get a Donovan Memorial Silver Fox?
To Acquire the Donovan memorial Silver Fox for yourself, simply contact the manufacturer via the following:
King Jeweler
2223 North West Shore Boulevard, Suite 192
Tampa, Florida 33607
Phone: 813-354-5588
kingjewelers@gmail.com
The Donovan Memorial Silver Fox is cast in Sterling Silver, with Equine cut Aquamarines set into the eyes. The pin features a lapel pin style straight pin back.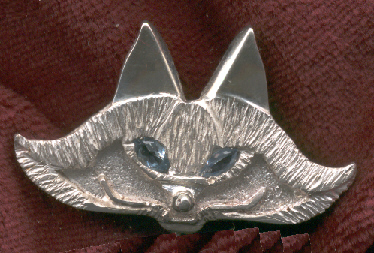 Silver Fox 1 1/4 inch, enlarged to show detail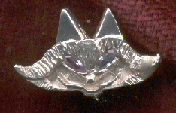 Silver Fox 3/4 inch, enlarged to show detail

Please note that the Small pin, 3/4 inches wide, is $40.00 while the Larger pin at 1 1/4 inches wide is $135. These prices include an automatic donation to the Ken Donovan memorial Fund to support the Crusader Newspaper which brings to light wanted criminals around the Tampa Bay area. Prices do Not include tax or shipping.
Any Questions?
Please use the Webmaster E-Mail link if you have any questions about the site construction, features, or enhancements you'd recommend.

This site has seen






Visitors